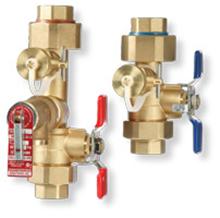 With this set it is easy to isolate your heater for your annual vinegar flush service procedure. With this system the cleaning and flush process can be done quickly with no mess. Includes a pressure relief safety valve and isolation main-line shut-off for the hot and cold side of your system.
The side access ports have their own valves as well. Featuring sealed outer caps with retention straps. With standard garden hose thread fittings and shut-off "T" valve handles that allow access for the flushing pump and drain hose connections.
Service valves also work well in the event that the heater must be removed for service. The water system can be turned-off at this location without disturbing the water supply to the building or having to turn-off the main water valve.
See our tankless heater cleaning and flushing movie on YouTube.
Order your service valve set today!
Only: $139.95

Free Shipping!
Shipping by UPS "Ground".