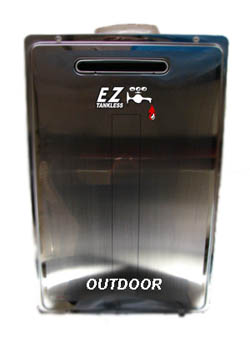 The EZ-OUTDOOR makes a lot of instant hot water. Our biggest GPM unit, this one is designed for users who live in no-freeze zones. Designed to be mounted on the exterior of the building. There are no exhaust components necessary. The intake air is taken in on the back side and the opening in the front panel is the exhaust. This weather resistant unit is not designed to be mounted inside a residential or occupied dwelling.



The OUTDOOR features a remote control panel that mounts inside the building for easy adjustments to temperature settings. The OUTDOOR works great in any well ventilated area, the back wall, on a stand alone mount, under the lean-to or car-port.


Order yours today!
Only: $424.95

Free Shipping!
Shipping by UPS "Ground".


BTU's
15,000 - 120,000 BTUs
Energy Efficiency
88%
Gas & Water Connections

Water - 1/2"

Gas - 3/4"

GPM at 45°F Rise
7.3 GPM
Dimensions
24" x 16" x 6"
Minimum Input Water Pressure
25 PSI
Weight
45 LBS
Gas Type
Natural Gas or LPG (PROPANE)
Voltage(V)
AC 110V 60Hz
Packaging Size
30" x 17" x 9"