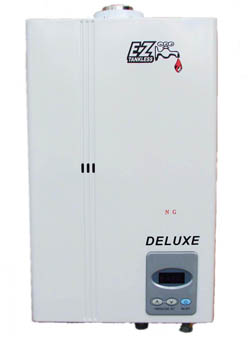 The EZ-DELUXE is the latest in high efficiency direct vent computer temperature controlled high output tankless technology. This compact direct-vent-forced-air unit makes big BTUs in a small package. Low exhaust pipe temperatures and direct vent intake make this unit safe and economical. With direct vent, intake combustion air is drawn in from outdoors. This eliminates the backdraft dangers and room Cubic Feet requirements of many models of the past.



Unlike most direct vent tankless manufacturers, with each EZ DELUXE model we include the basic set of concentric (dual-chamber) intake-exhaust components necessary for standard exterior wall installation at no additional charge.*

* Additional concentric intake-exhaust extension components available at minimal cost.
Order yours today!
Only: $394.95

Free Shipping!
Shipping by UPS "Ground".


BTU's
15,000 - 87,500 BTUs
Energy Efficiency
88%
Gas & Water Connections
½" Connections
GPM at 45°F Rise
4.4 GPM
Dimensions
24" x 16" x 6"
Minimum Input Water Pressure
15 PSI
Weight
35 LBS
Gas Type
Natural Gas or LPG (PROPANE)
Voltage(V)
AC 110V 60Hz
Packaging Size
30" x 17" x 9"